I have undertaken many commissions and have extensive experience of working with clients – both corporate and private – home & abroad.  This can be either working with clients directly or with their interior design teams.  I offer two distinct services when undertaking commissions: one is creating bespoke art for interiors and the other is creating bespoke art based on clients own personal colour energies.  Both approaches are very different from each other as explained below.
Bespoke Art for Interiors
A typical engagement with a client would start off with a meeting, ideally in person where possible or online, to discuss and outline their basic requirements for the commissioned piece.  We would typically discuss and agree various aspects, such as: preferred colours, size of canvas, level of energy (ranging from soothing to vibrant and powerful), range of textures, metallic or non-metallic finish, timescales or any critical deadlines, and of course budget.
Whenever possible, I usually like to visit the setting where the piece will eventually be situated, so that I can get an idea of the surroundings, i.e colours of walls and furnishings, size of room and very importantly the lighting.  Lighting plays a key part, whether natural or artificial, as the appearance of the piece will often change in accordance with the changing light of the day.  If a site visit is not possible, as is often the case with international clients, I usually ask for pictures or arrange for a video call, along with any swatches or additional input the client may wish to provide.
Once I have collated all the details of the clients requirements, I then follow up with approximate timescales and costs for the client to review and finalise. The cost of the commission is based on a number of factors, such as size of canvas, level of detail, materials used, overall time & effort required to complete the piece, and packaging & shipping. Once the scope, details and costs of the commission have been agreed, I then start on the work.
I offer all my clients the chance to view the work in progress, be it in person or online, if they so wish.  Sometimes clients decline this offer as they prefer to see the finished piece without any additional input from them.  Once the piece is finished, it is delivered to your preferred location.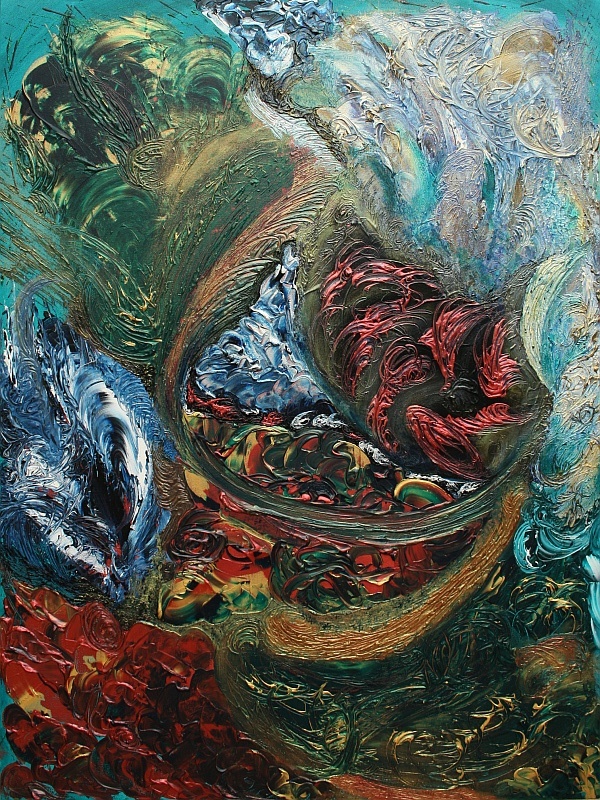 Bespoke Art Based on Clients
Own Personal Colour Energies
We all have an aura – a light containing many colours that emanates from our bodies. These auras can be read and interpreted, with each colour representing a different aspect of our personality.
During a consultation I will meet with a client and ask a series of questions which help me to establish an outline of their nature and preferences.  I will then use my training as an Advanced Practitioner of Pranic Healing to read and recognise the most dominant colour energy waves of the clients aura.  Every time I have undertaken this type of commission, it has always been a fascinating experience for both the client and myself.  I am always happy to demonstrate to my clients the technique of how to physically feel colour energies without the use of sight.  This is often a memorable exchange for clients, which leaves the lasting effect of gaining a new and fascinating skill!
Using my findings I will then proceed to create a bespoke abstract painting that will be unique to the clients personal colour energy frequencies, focusing specifically on three main aspects, namely: colour palette,  level of texture, and flow of energy.
I am happy to consult with the client during various stages of the creation process, if they so wish; however, most prefer the elements of anticipation and surprise.  Once they receive the finished piece, my clients take great pleasure in knowing that each day they look at the painting, it reminds them that it is a piece of art that is a part of them.  A very special possession!
Please contact me if you require any further details or would like to commission me to create an abstract for you.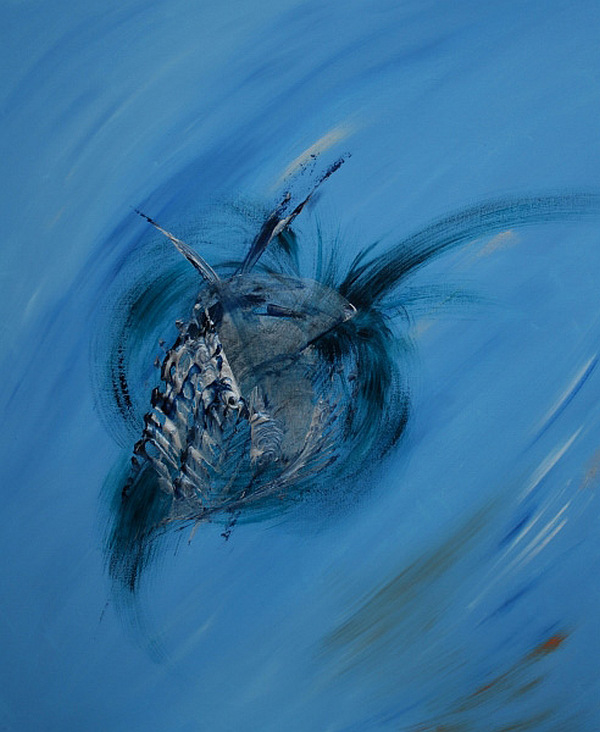 I commissioned Furrah to create a piece which was similar to a painting that had been sold at her solo show in Bangalore, India.  I loved having the luxury of choosing a different size to the one sold selecting the colours according to décor of the room at home where I knew it would hang.

Furrah made the whole process very simple and fun, and offered to show me the painting during the period of its creation. However, I declined as I really wanted it to be her interpretation of my preferences in terms of colour and texture.  I was very pleased with the end result.

The piece was stunning and had many layers of textures. I was especially entranced by the way Furrah had beautifully blended the subtle shades of my favourite season of the year in the UK, Autumn.  From emerald green to burnt orange to gorgeous golden hues, it captured all the magnificence of this beautiful season right in our home.  It really compliments my living room and I love the way the natural light from our patio doors makes the painting look different from morning to evening. I am very pleased to have one of Furrah's pieces in my home.
I was looking for a unique gift for my wife's 50th birthday when I came across the stunning work of Furrah Syed.

I contacted Furrah for an informal chat and we talked through ideas about texture, colour and of course budget!  It was the start of a creative journey which culminated in a stunning piece of artwork.  I was thrilled with the painting I commissioned, which, with its fluid pink, pastel and gold tones, somehow seemed  to encapsulate the warmth, beauty and joy of my wife's personality.

This beautiful gift has such energy and power that it feels as if the brush strokes and colours of the painting combine to express a depth of  emotion.

The artwork is placed over our mantelpiece and as I look at it, it brings a real feeling of peace and contentment. I am so pleased to have a such a beautiful painting in our home.

Thank you so much Furrah!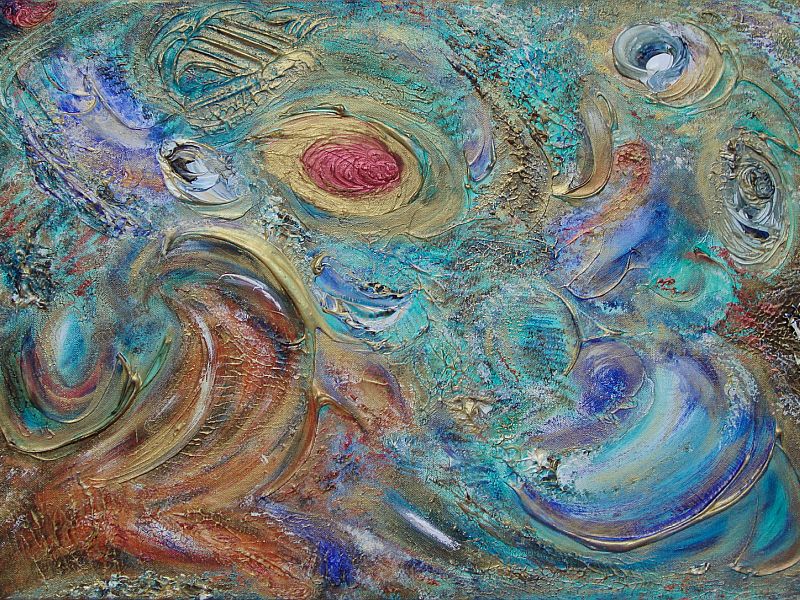 Commissioning Furrah for a painting was one of the easiest and enjoyable interactions I have had with an artist so far. She clearly explained the commissioning process to me so I knew exactly what to expect, while still keeping a sense of mystery around the final unveiling of the piece. Even though Furrah was unable to travel to Madrid to view where the piece would be displayed, she accommodated my requirements through video calls and made sure the process remained uncomplicated for me.

I enjoyed working with Furrah throughout the process as I felt I was in control of choosing the colour scheme, amount of metallic sheen and even the positioning of where I wanted the the energy in the piece to be concentrated. I wanted a bright element in one corner with warmer colours whirling around it. I had also requested a distinct and bold representation of texture that added a visually and aesthetically appealing character to the piece.  At the final unveiling, I fell in love with the way Furrah had incorporated my chosen colours and interpreted my requests in a subtle yet effective way.