Art Appreciation Workshops for the Blind & Visually Impaired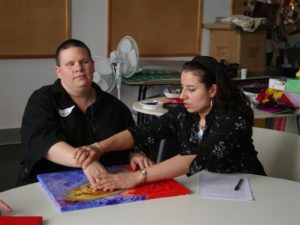 It all started because I was curious. I wanted to know what it would be like to explore my work from the perspective of someone who cannot see – using only the sense of touch!
How would it feel to explore my paintings using only your fingertips? Allowing the varying textures, movements and colours to conjure up various images in your mind? Thinking of your own interpretation of the way the painting makes you feel?
At my exhibitions, I was really keen for people to explore the works using their sense of touch. This was very unusual and I got to watch visitors really enjoy this very immersive experience of exploring art. It always led to really interesting discussions with people from all ages, backgrounds, cultures and religions. Art has the unique benefit of uniting people across many boundaries.
During this time I had also been introduced to the concept of being able to 'physically feel colour energies' via the fascinating practice of Pranic Healing. I was very excited and wanted to research this further. There was so much I wanted to discover, but was acutely aware that many levels of experiences could occur here.  I realised I would need to have some sort of structure of any sessions I had with people.  I would also need to be able to record findings of my sessions with participants as I knew it would provide intriguing results. This led me to devise the early stages of the workshop
I was able to conduct a few one-on-one workshops with people who were blind or had partial vision and these proved to be fascinating. The feedback from the participants was amazing as I got to discuss the many aspects of what they had explored and experienced for the first time.
I fine-tuned the workshop after each session, making various improvements and adjustments along the way. The finished product is the workshop which I have delivered in the UK, New York, India, Australia, Hong Kong, Singapore and Malaysia.
Workshop Objectives & Structure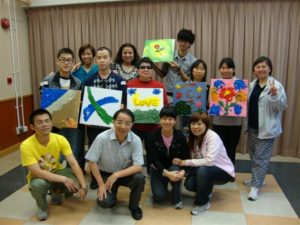 The main objectives of my workshops are to:
Invite visually impaired participants to experience and interpret heavily textured art.
Encourage participants to develop their own creative ideas.
Enhance the participants awareness of the varying energies and 'temperatures' of colours.
Offer an opportunity for participants to actually create art using textured materials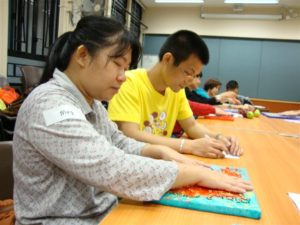 The workshop is typically conducted in one day with a few breaks.  I always take into account any specific requirements any of the participants may have and I am therefore flexible in the approach I adopt in conducting these workshops. However, the overall structure of the workshop is generally based around the following three main activities:
EXPLORING TEXTURES:  Using carefully selected pieces from my collection, we first explore the textures on the various canvases and discuss interpretations of what the participant is feeling. Sometimes, these can be beautifully poetic, very personal and deeply emotional.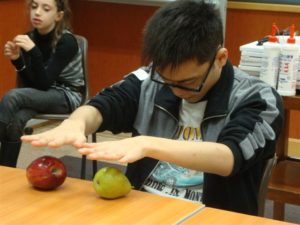 'FEELING' COLOURS:  We then explore colour recognition using only our sense of touch. Learning how to detect the various energies that different colours emit. This is absolutely fascinating to observe – to share with someone who is blind or partially sighted that they can actually feel the heat from a red part of the canvas and a cool energy from a white area of the canvas is hugely rewarding. Some people are more sensitive than others and pick up the technique straight away whereas others take a little more time to get used to the idea and then improve on the technique.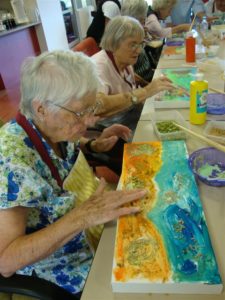 CREATING TACTILE ART:  The final section of the workshop is where the participants create art using various textured materials such as rice, sand, pulses, papier-mache, glue and paint. The result is a multi-layered creation that the participants can enjoy exploring and share with their family and friends.
I also devised a feedback form that accompanies the workshop. It is completed as we progress through the workshop by an assisting volunteer taking down the reactions of the participant. This has allowed me to collate valuable information of how people react to various sensory experiences.
The common response to my workshops is that the participant has never before taken part in any session like it before. This is wonderful to hear- it makes me feel so happy that my curiosity has led to me meeting so many amazing people from across the globe, having lots of fun together and sharing my approach to art appreciation.
Having conducted these workshops not only at various organisations for the blind and partially sighted but at mainstream and specialist schools, museums and galleries, the one thing I always take away from each experience is how amazing it is to connect with strangers through art.
I feel very privileged to have been able to hear some of the most beautiful interpretations of my works and to share knowledge that I have found along the way that can make a difference in someone's life.
Jul 2022 – Old Royal Naval College, Greenwich, London, UK
Jul 2022 – In collaboration with the ATOS Art Exhibition 22, London, UK
Jun 2022 – Open Workshop, Thames-Side Studios, London, UK
Nov 2021 – Chalgrove School, Finchley. London, UK
Jun 2019 – Open Workshop, Thames-Side Studios, London, UK
Jun 2018 – Open Workshop, Thames-Side Studios, London, UK
May 2017 – Open Workshop, Thames-Side Studios, London, UK
Jun 2016 – Open Workshop, Second Floor Studios & Arts, London, UK
Jun 2011 – Camden Sensory Needs Services, London, UK
Apr 2011 – Museum of Modern Art Wales, Machynlleth, Wales, UK
Aug 2010 – VISIONS at Selis Manor, New York, USA
Jul 2010 – VISIONS VCB, New York, USA
Jun 2010 – Enfield Vision, London, UK
May 2010 – Kent Association for the Blind, Maidstone, Kent, UK
Apr 2010 – Malaysian Association for the Blind, Kuala Lumpur, MALAYSIA
Apr 2010 – Singapore Association for the Visually Handicapped, SINGAPORE
Apr 2010 – Western Australia Association for the Blind, Perth, AUSTRALIA
Apr 2010 – Museum of Contemporary Arts, Sydney, AUSTRALIA
Apr 2010 – Vision Australia, Melbourne, AUSTRALIA
Apr 2010 – Hong Kong Blind Union, Hong Kong, HK
Dec 2009 – Linden Lodge, School, Wimbledon, London, UK
Nov 2009 – West Grove School, Southgate, London, UK
Oct 2009 – Hong Kong Blind Union, Hong Kong, HK
Sep 2009 – Vision Australia, Melbourne, AUSTRALIA
Jul 2009 – Linden Lodge School, Wimbledon, London, UK